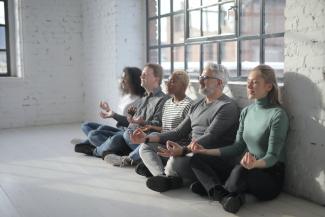 Meditation offers a wide variety of benefits, whether you use an app, watch recorded videos, live streams, or practice alone. Meditation with a group can provide a useful support to your practice and amplify the benefits of meditating alone. When you practice in a group, you might feel accountable to other members of the group or less likely to drop your meditation practice when life starts to get chaotic. A meditation group can be a place where people share ideas, struggles, and strategies to get the most from the practice.
For thousands of years spiritual teachers have been talking about the benefits of group meditation, and surrounding yourself with people on a similar path. For instance, one day the Buddha was approached by his primary attendant, Ānanda, who suggested to the Buddha that "good friends, companions, and associates are half the spiritual life." However, the Buddha quickly corrected him, saying, "Not so, Ānanda! Good friends, companions, and associates are the whole of the spiritual life."
More recently one of Thich Nhat Hanh's most senior dharma teachers said something similar:
The most important thing is the core friendships you create together. That's everything. You practice every day by yourself, and you share the fruits of your daily practice with the closest members, those who are the core of your group—you know who they are. You offer your freshness, joy, and deep listening to them, and help those friendships to bloom.
The benefits of group meditation come not just from sitting in a room together, but helping each other. There is broad consensus that finding "spiritual friends" (kalyāṇa mittatā) is essential to your success on the spiritual path. Whether you find your inspiration from His Holiness The Dalai Lama, the late Archbishop Desmond Tutu, or anyone else who spreads joy in the world, group practice can provide countless benefits to your personal practice.
In our hyper-individualistic world it's no surprise that most people interested in meditation say they would rather meditate alone than in a group. Yet a growing number of scientific studies that compare group meditation to solitary meditation are finding evidence to support traditional beliefs about the benefits of group mindfulness practice.
Meditation teachers like to use the Pāli word ehipassiko, which means "come and see for yourself." The only way to find out if group meditation would support and deepen your meditation practice is to try for yourself. I am starting a new, FREE, meditation group through Spirit of the Lake. We will meet the next six Tuesday evenings, March 8 to April 12, 7-8pm, alternating between in-person and online meetings:
March 8 Online
March 15 Studio
March 22 Online
March 29 Studio (music)
April 5 Online
April 12 Studio
Each session will include 3 components:
Guided meditation
A short check-in from each member
Open time for mindful sharing of joys, difficulties, and questions about their meditation practice and how it is working (or not) in their daily lives
This free group is open to people of all levels of experience and all belief systems. We'll explore a variety of meditation techniques, such as mindfulness meditation and music meditation.
If you would like to join this group either sign up here, email info@spiritofthelakeyoga.com, or contact me.
I hope to see you on Tuesday!