Matthew Tift, Ph.D., RYT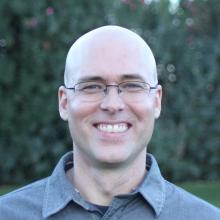 Hi, I'm Matthew (he/him)! I'm a yoga teacher, musician, and the Board Chair at onelove.yoga, a nonprofit that brings yoga into schools.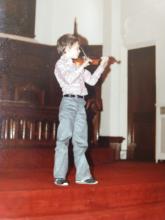 My journey began with music. I started playing violin at age 5 and spent much of my childhood playing in orchestras, singing in choirs, and performing in musicals. I have performed with choirs all around the world, and in major performance venues, such as Lincoln Center in New York. In college I majored in violin performance and minored in piano performance. After college I worked at the Minnesota Orchestra and the Madeline Island Music Camp, but soon set off for graduate school. At the University of Wisconsin-Madison I earned a MA (2001) and PhD (2007) in musicology and later taught at the University of Iowa. My master's thesis, "Grateful Dead Musicking," became a chapter in a book about the Grateful Dead. The full text of my doctoral dissertation, Musical AIDS: Music, Musicians, and the Cultural Construction of HIV/AIDS in the United States, is available here.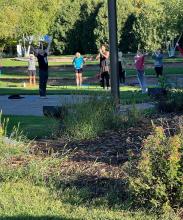 I lead yoga and meditation classes at onelove.yoga, Spirit of the Lake, Williston Fitness Center, Minnetonka Community Education, Minnesota Landscape Arboretum, the Minnetonka School District, corporate settings, prisons, and elsewhere. I publish a meditation podcast called Pretty Good Meditation. My yoga classes are informed by ancient wisdom, scientific research, and my personal practice. Drawing on the teachings of Kripalu yoga, I provide opportunities for self-observation without judgment, whether engaging in rigorous physical postures, relaxing into restorative poses and meditation, or calming the mind with music.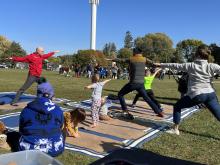 I have been a dedicated yoga practitioner since 2012. I completed my 200-hour yoga teacher training, in the Kripalu lineage, at Spirit of the Lake. In April 2023 I will complete the 300-hour teacher training at the Kripalu Center for Yoga & Health (Stockbridge, Massachusetts).
I live near Minneapolis, Minnesota on the unceded, traditional land of the Dakota Nation. In addition to practicing yoga and playing my harmonium and violin, I am an avid cyclist and I love any opportunity to play string quartets with my wife (viola) and two children (cello and violin).