Last night my kids requested we eat dinner at Noodles & Company. It's not a restaurant that I would choose, but my kids wanted to go out and they rarely request to eat out. They further enticed me by suggesting we all eat together outside at a park, so I couldn't say no. I enjoyed the food, family time, weather, and the park, but there was one aspect of that meal that made me feel uncomfortable: the plastic.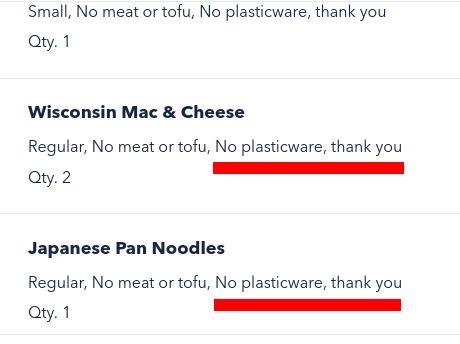 For just about every item we ordered online, we were able to select the option, "No plasticware, thank you." After I ordered and we were getting together our silverware and chop sticks, I remember feeling a small sense of satisfaction for "reducing" the amount of plastic in the world.
Unfortunately, the workers completely ignored our requests and our bag was filled with plastic forks. Not only that, but all of our food came in plastic bins with plastic covers. When I saw this, and suggested that next time we eat in the store to reduce plastic waste, my kids informed me that Noodles uses plastic containers not just for take-out but also for dine-in. This from a company that was recently touting how they will no longer use plastic straws. Even though the park where we ate dinner had plastic recycling bins, that pile of plastic produced by a single meal left me feeling uncomfortable.
Finding Inspiration
Coincidentally, a post showed up in my RSS feed today about a reporter who tried to avoid plastic while grocery shopping for a week. The article provided me with lots of reminders for why to avoid using plastic:
For me, much of this was more reminder than new information. In high school I had a reputation for being environmentally conscious and I'm big-headed about the fact that my class voted me "Most Likely to Tie Himself to a Tree in a Rainforest before Letting a Logger Cut It Down." In the 2000s, when I was a regular reader of the No Impact Man blog, I started walking and biking to my local co-op with my reusable bags and containers. I felt like a full-on, earth-loving hippie. A few years ago my wife, Marnie, switched our household to use zero waste hand soaps and plastic-free laundry detergent strips for laundry — and I always hang my laundry rather than use a dryer. I do the majority of my grocery shopping either walking to our local grocery store or biking to our local food co-op.
A Plastic Free July
We do lots of earth-friendly practices in our house, but in the past 24 hours or so, I have realized that I would like to be more mindful about my plastic use. I feel like I've gotten a little bit lazy. But it turns out July is the perfect month to start re-incorporating some of the practices that I used to do and reduce the amount of waste that I produce. There is a thing called Plastic Free July, and if my participation does even a little bit that leads to cleaner streets, oceans, and beautiful communities then that feels it it would benefit my well-being as well as the well-being of the planet and other people.
The level of effort for me to have a truly plastic free July — not including yesterday — seems like it would be relatively low, and I have already found a lot of resources to support me. I added a few new RSS feeds, including the Plastic Free July blog and the Zero-Waste Chef. I also ordered the Zero-Waste Chef cookbook from my local independent book store and I'll walk or bike up there at my earliest convenience. It's also probably time for us to sign up for a our local CSA again, not just to reduce our plastic use, but to support our local farmers.
If yoga and meditation have taught me anything, it's that living well is not a means to an end but rather a constant process of examining my words, thoughts, and actions and making choices that support my values. It's like tending the garden. Getting rid of plastic, as much as possible, seems like a positive step toward increased happiness and I'm hoping that writing this blog post helps turn my intention into action.