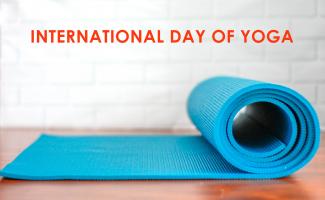 In 2014 the United Nations General Assembly declared June 21 the "International Day of Yoga" and it has been celebrated annually on June 21 ever since. Because so many people around the world embraced yoga to stay healthy and fight social isolation during the pandemic, the theme for 2022 is "yoga for humanity." How can you not like a day that is literally for humanity (the most abundant and widespread species of primate on the planet)?
For me, personally, yoga has been (was?) especially important during the pandemic — both as a personal practice and as a community space. I can feel how yoga supports both my physical and mental health. A day without yoga is like a day without ... just kidding, I have no idea.
Yoga offers many benefits to health and overall well-being. But don't take my word for it. According to an analysis of the scientific research on yoga by Johns Hopkins Medicine, yoga does a whole lotta good stuff:
Yoga improves strength, balance, and flexibility.
Yoga helps with back pain relief.
Yoga can ease arthritis symptoms.
Yoga benefits heart health.
Yoga relaxes you, to help you sleep better.
Yoga can mean more energy and brighter moods.
Yoga helps you manage stress.
Yoga connects you with a supportive community.
Yoga promotes better self-care.
Kinda makes you want to go do some yoga right now, doesn't it?
I tend to be a morning person, so I started this International Day of Yoga with other people in the Spirit of the Lake community, teaching a 6:30am Hatha Yoga class. Now I feel awake and energized, like a poster child for yoga, except older.
How are you going to celebrate the International Day of Yoga?